Hurray for biggest CND demo in decades!
Biggest CND demo in decades!
In freezing cold weather, tens of thousands of people filled the streets of London on February 27th to protest the renewal of Trident. Eight coaches from across Yorkshire joined the demo, together with our music playing mock missile (see photo). It was the largest demonstration against nuclear weapons for a generation, and it felt inspiring to be part of a growing movement against Trident.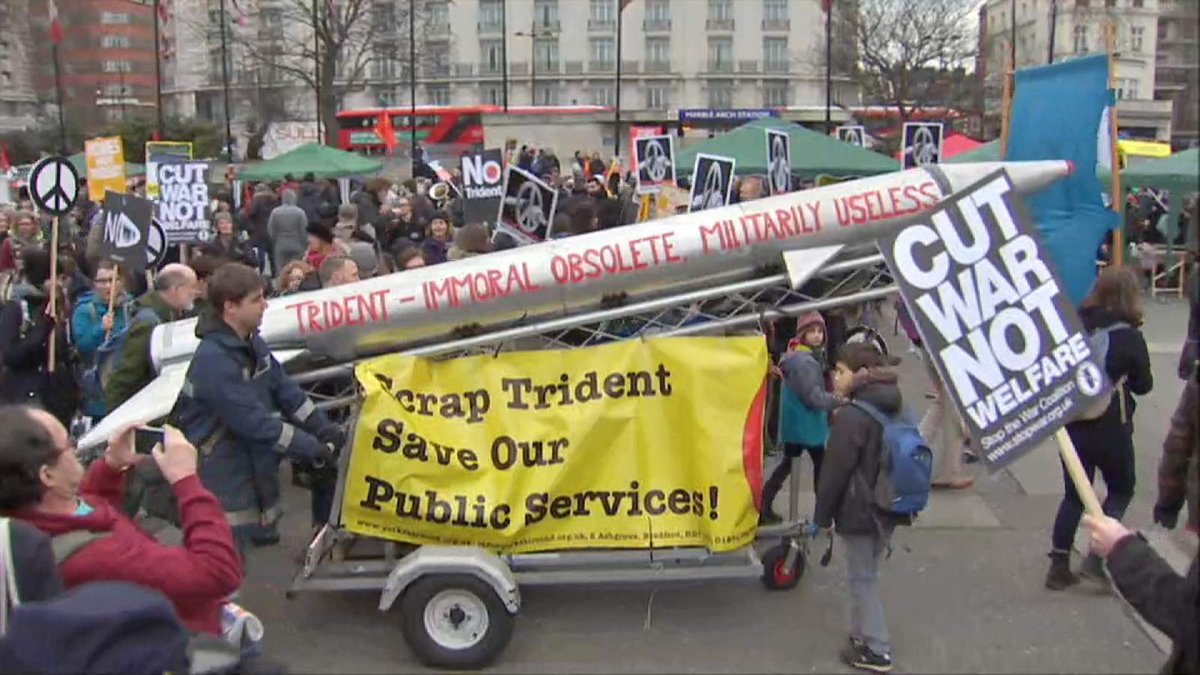 There was strong cross-party support for the event, with inspirational speeches from three party leaders: Labour's Jeremy Corbyn, the Scottish National Party's Nicola Sturgeon, and Plaid Cymru's Leanne Wood. Caroline Lucas of the Green Party also spoke.
Many speakers mentioned the humanitarian and environmental impacts of nuclear weapons, and the urgent need for Britain to adhere to its international obligations to disarm and support moves towards a new global ban treaty.
Nicola Sturgeon, the First Minister of Scotland, said: "The use of nuclear weapons would bring about suffering on an imaginable scale … How can we expect other countries to disarm when we say nuclear weapons are essential for our security?"
Leanne Wood stated that "it is never acceptable to use nuclear weapons" and they "belong in the dustbin of history". Caroline Lucas called for Britain to "stop hiding behind rhetoric of deterrence – Trident is a weapon of mass destruction in breach of international law".
Citing research from Scientists for Global Responsibility, Lucas also pointed out that Trident has more firepower than all the weapons used in World War II and could kill tens of millions of people: "Right now the UK is boycotting new multilateral disarmament talks in Geneva. This is completely unacceptable." (See also her article published the same day.)
Jeremy Corbyn, Britain's opposition leader, spoke about the humanitarian impacts of nuclear weapons and his participation in the Vienna conference on the humanitarian impact of nuclear weapons in December 2014.
Saying that no one should forget the "absolute mass destruction on both sides" that would follow a nuclear attack and reiterating his "total horror of nuclear weapons", he went on to state: "I want to see a Labour government that would adhere to all the articles of the non-proliferation treaty."
On the morning of the march, a joint letter from senior health professionals, coordinated by ICAN partner organization Medact, was published in the conservative Telegraph newspaper. It pointed out:
"The International Red Cross Red Crescent movement, the World Medical Association and other health organizations have called for the prohibition and elimination of nuclear weapons because they contravene humanitarian law and pose unacceptable risks to humanity."
The demo got a lot of coverage in national and international media, and Yorkshire's missile was much photographed, and appeared on several news channels.