MPD Online Concert for Peace: An Evening of Folk Music
MPD Online Concert for Peace: An Evening of Folk Music
3rd September 2020 @ 7:15 pm

-

9:00 pm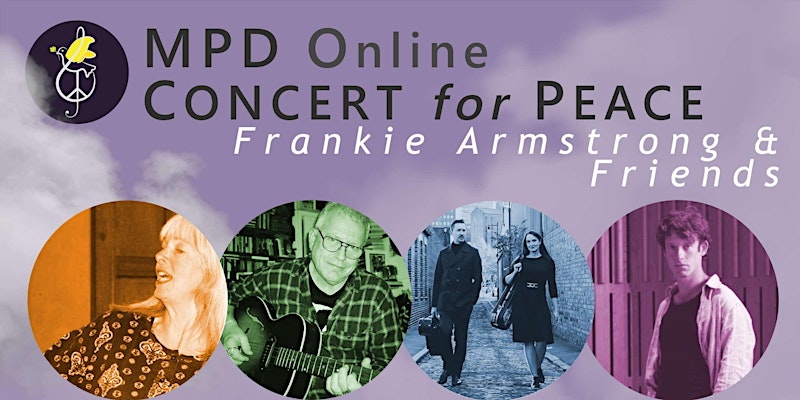 A Fundraising Online Concert organised by Musicians for Peace and Disarmament (MPD)
About this Event
MPD's first ever Folk Music concert: original and traditional songs performed by world-class, award-winning artists – Frankie Armstrong (MPD Patron), Robb Johnson, Nancy Kerr & James Fagan duo, and Sam Lee.
Book for free or buy a pay-as-you-wish ticket. The event will be held on Zoom. There are limited places and registration will be on first come first serve basis. After registering for the event, there will be an onscreen message with the Zoom link and password. You will also receive the details on your order confirmation email.
Please note the session may be recorded and made public afterwards.
Frankie Armstrong began singing for peace and justice causes at the time of the Vietnam war. As well as songs on these themes she is known for traditional ballads and songs which illuminate women's lives. She has made eleven solo albums and appeared on numerous shared and themed recordings. She has co-written three books and contributed chapters to eleven others. From her belief that singing creates a sense of communion she began running workshops 45 years ago to help people find their voices."As she enters her 80th year her voice is still a paragon of clarity and control." (David Kidman, Living Tradition)
Nancy Kerr and James Fagan are one of the most enduring duos in folk, forming 25 years ago. Sydney lad James Fagan grew up performing with iconic folk family The Fagans, before meeting Nancy Kerr, one of the brightest stars of her generation in the UK. Nancy has worked with Sandra Kerr, Eliza Carthy, Martin Simpson, Andy Cutting, and Maddy Prior, to name a few. Bringing new life to traditional music and performing Nancy's highly regarded original songs, Nancy and James sound as fresh as ever. kerrfagan.uk
Robb Johnson's widely recognised as one of the UK's finest songwriters. "An English original", (Robin Denselow, the Guardian)… "one of our best singer-songwriters ever" (Mike Harding)… a "renowned folk-punk" (Time Out). He gigs in the UK, Belgium, Germany & the USA, & his songs are covered by many singers, from folk legend Roy Bailey to cabaret diva Barb Jungr, both of whom appeared on the 2013 re-recording of Robb's highly regarded Gentle Men, a family history song suite about the First World War & its consequences. His record label Irregular Records has released albums by a variety of artists, including Barb Jungr, The Men They Couldn't Hang, Maggie Holland & Philip Jeays. robbjohnson.co.uk
Sam Lee plays a unique role in the British music scene. A highly inventive and original singer, folk song interpreter, a passionate conservationist, committed song collector and a successful creator of live events. Alongside his organisation The Nest Collective and fellow collaborators Sam has shaken up the live music scene breaking the boundaries between folk and contemporary music and the assumed place and way folksong is heard. He's injected a renewed passion into this old material, helping to develop its ecosystem by not only inviting in a new listenership but also interrogating what the messages in these old songs hold for us today. With his forthcoming album, Old Wow, he's summonsed up a truly compelling and emotional album that takes his work to yet another level. samleesong.co.uk